7th AIDA Team World Championship - Okinawa / Japan
Hello everybody,

A new adventure just ended. The 7th team world championship was organised for the first time in Asia, in Okinawa-Japan, from the 30th to the 11th july, day of my 28th birthday !
Woman French team was composed of Julie Gautier, Alice Modolo and Aurore Asso.
Men's french team was composed of Christian Maldame, Morgan Bourc'His, Fred Sessa and me.
We all arrived 5 days to 1 week before the beginning of the competition to have time to adapt to jetlag and also have several training sessions in the ocean.
After the calm Mediteranean sea of Kalamata, what a change ! Current, wind, rain or waves, it was bad luck for Ryuzo Shinomya, the organiser, as the conditions could have been perfect as he expected.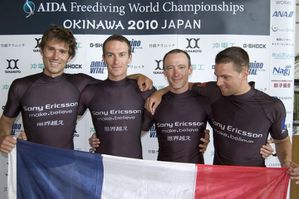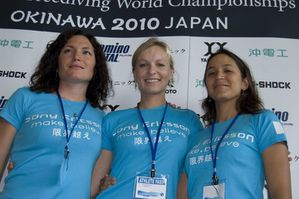 This year, we had maybe the best conditions ever to succeed in this competition : a sponsor Sony Ericsson, 2 coach, 1 captain, 1 physiologist and of course 8 athletes very strong, well prepared and motivated.
Unfortunatly, it seemed that french team was cursed for this event : Brigitte couldn't join us because she injured herself, Cyril the coach had to cancel his trip at the last minute because of an emergency at work, I got tangled at 102m by an anchor roap in the constant weigth disipline, my nose clip broke during the static, etc….
On the top of that, it was hard for Morgan, Fred and me to handle the nomination of Christian Maldame as the alternate of the team, as it was obvious for us he was the strong leader of the team.

Anyway, no excuse. At the end of the competition, the Danish won the world champion title. Even without all our troubles, it would have been very very hard to dominate them.
Japanese team took the the 2nd place and like in 2008, Finland took the bronze medal.
For the woman, Japanese were very strong and took the gold medal. Finally the Russians are not world champions anymore !
The french girls are at the 5th place.

Fortunatly, this world championship ended with a french fireworks : a new dynamic WORLD RECORD by Fred Sessa with a 255m swim ! Congratulation to him !