Gold Medal at the 3rd Mediterranean World Cup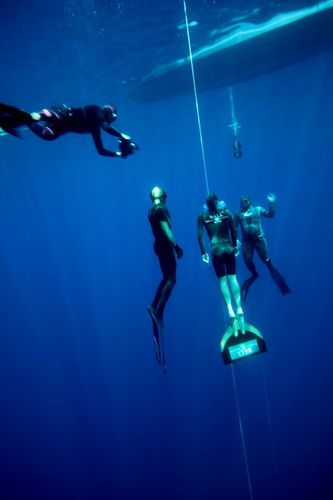 Welcome back on the blog !
From the 7th to the 20th of june was organised the 3rd Mediterranean World Cup in Greece.
This competition usually took place in Sougia –Crete, but this year, the organiser Stavros Kastrinakis moved it to the Peloponese, in Kalamata.
The first week of the event was dedicated to the training and the second week was the competition week. The winner is the one that collect the biggest amount of point in the 3 unassisted depth discipline :
- CWT (constant weight with fin) : swimming down and up with the fins
- CNF (constant no fins) : swimming down and up without any material
- FIM (Free Immersion) : pulling down and up to the rope


In CWT, I did a fantastic dive at 114m but unfortunaty failed in a national record attempt the last day of the comp at 118m (early turn at 100m).
In CNF, I went to 70m
In FIM, I pulled down to 96m

I am very happy to win this competition, and especially with my CWT dives. On the 114m, I felt I had some air left in the tank. My early turn in the 118m was due to a technical mistake on the way down.

It was a good start before the main competition of the year : The team world championship in Okinawa – Japan, where french team will try to defend his world champion title !.
I will arrive in Okinawa the 24th of June, so I keep you informed very soon !